The East West Company - Natural Felt & Black style Knee pads -- slim, low profile & comfortable with great support.
Our Kneepads are for all dance - Modern, Hip Hop, Jazz, Contact Improvisation, Belly Dancing, Theater, Martial Arts and all other floor activities.
These kneepads have a slim profile, stay in place, have soft elastic banding, offer protection and support, are comfortable and flexible, do not restrict movement, and are easily concealed under clothing.
We offer two colors, Natural and Black.
Our Kneepads - FREE SHIPPING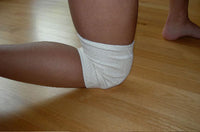 Natural Knee Pads
One size fits most.
1/4" thick padding made with protective wool felt padding and soft supportive elastic banding. One size fits most.
Buy 1 pair - $18.75/pr
Buy 2 or more pairs - Free Shipping

Buy 12 or more pairs - $17.00/pr  Free Shipping
Buy Now!
Black Knee Pads
Available in two sizes.
5/16" thick padding and soft elastic support banding.
Two sizes available: Medium and Large.
Buy 1 pair - $17.00/pr
Buy 2 or more pairs - Free Shipping

Buy 12 or more pairs - $15.25/pr Free Shipping
Buy Now!
Free Shipping & Handling* within the continental U.S.
All orders are shipped USPS Ground Advantage or UPS Ground within 24-48 hrs. Expected arrival is 4-7 days within the U.S.
For shipping to Alaska, Hawaii and Puerto Rico, email us for rates at contact@theeastwestcompany.com. Please provide quantity and shipping address and we will get back to you with a shipping quote.
We are now offering international shipping to a limited number of countries outside the U.S. Minimum purchase of 15 pairs. Please contact us a shipping quote or for more information.
Important Notice for International Orders:  When your order arrives in your country, there may be Duties, Taxes, and other customs fees applied to your order by the country in which you reside, as well as UPS Brokerage fees. We are not responsible for these fees.  We recommend that you check your country's customs regulations regarding import duties, brokerage fees, etc. if the fees are of concern prior to your purchase.  
Some delays may occur due to other unforeseen circumstances by the delivery service. Please see the USPS or UPS website for any delays in your area.
Discount pricing on quantity purchases of 12 pairs or more
* Free Shipping with minimum purchase of 2 or more pairs. Only applies to orders shipped within the continental U.S.
Our Guarantee
Your total satisfaction is assured or your money back. If you are not completely happy with your purchase, just return it within 30 days for a full refund, less return shipping.
Contact Us
Questions about our products?
We can be reached either via phone or email
and will respond as soon as we can!
Email - contact@TheEastWestCompany.com
541-648-6872
Testimonials
I like these knee pads because they are small enough to wear under my costumes when I perform without being bulky.

Student, Kyle C.
These knee pads are useful whether I am teaching modern, jazz or hip hop. Not only do they serve as knee protection when going to the floor, they are also great for patella and tendon support.

Instructor, Sara P.
"These kneepads have lasted me through site specific shows in empty warehouses, improv jams, and solo performances in NYC. My floor work would not be possible without them."

Professional Dancer, Mauriah K.
About This Site
We strive to display our products as accurately as possible.
If you have any suggestions how we can better present our kneepads for viewing and purchases, please let us know.